End of Life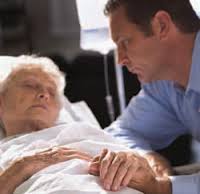 At some point every family must deal with issues involving end of life care for a loved one. As Catholics attempt to navigate the myriad medical, ethical, and religious questions that arise, all the while dealing with the grief of an impending death, it can become overwhelming.
Now and at the Hour of Our Death

Catholic Guidance for End-of-Life Decision Making

End-of-life decisions, for ourselves and for loved ones, are among the most challenging we will ever face. Our Church offers comfort and practical guidance. Visit www.CatholicEndofLife.org to watch an eight minute video and read/download the New York State Bishops' document "Now and at the Hour of Our Death." Learn why the Church favors palliative medicine and comfort care, and why the Church opposes physician-assisted suicide.
Physician Assisted Suicide

One of the foundational principles in Catholic Social Teaching is promoting the dignity of all human life from the moment of conception until natural death. Our efforts don't just focus on the beginning of life, or on helping people have a decent quality of life, but in educating and advocating in support of life all the way to natural death.
A bill to legalize physician-assisted suicide has been sponsored in New York State. The NYS Catholic Conference has partnered with an alliance of other faith based groups, medical and legal professionals, and disability rights groups to oppose this bill and promote truly compassionate and appropriate end of life care.
Physician-assisted suicide is the advocacy issue in the 2017 Diocesan Public Policy Agenda, and the materials that follow will help you educate parishioners, students, and others to understand what's at stake and of the crucial need to protect life at the vulnerable end of life stage.
You can use these materials on physician-assisted suicide in various ways - liturgies, bulletin inserts, posting on websites and social media, in adult ed programs, faith sharing groups, prayer groups, youth groups, and in other groups and organizations.

Parish/Campus Ministry Presentations
Stephanie Woodward, Director of Advocacy of the Center for Disability Rights, and Suzanne Stack, Diocesan Director of Life Issues, are offering an informative and inspiring presentation on physician-assisted suicide. The strategy is to cover all areas of the Diocese to prepare parishioners and others to participate in Public Policy Weekend on February 4-5. Book now for some openings in January. Contact sstack@dor.org or 585-328-3210 x1304 to arrange a presentation at your location.

Blessings as you promote truly compassionate care that supports the dignity of ALL human life!

Resources
USCCB 2016-2017 Respect Life Program Moved By Mercy has two brochures or bulletin articles on assisted suicide and compassionate care for those at the end of life plus memes (images) and suggested posts for social media and websites (memes can also be used in bulletins, newsletters, etc). All are available in English and Spanish.
http://www.usccb.org/about/pro-life-activities/respect-life-program/2016/social-media-toolkit-2016-17-respect-life-program.cfm
Scroll down to 2nd brochure for Caring for Loved Ones at Life's End
Scroll down to 3rd brochure for Every Suicide is Tragic
Short video stories of patients and providers opposing assisted suicide, including one in Spanish:
https://www.youtube.com/channel/UCEvzOGg-zLqJGVvcxEVI4HA/videos

• Be sure to only use the videos from Patient Rights Action Fund, as others will pop up when viewing on YouTube in favor of assisted suicide
• Luke's story relates to the article Every Suicide is Tragic
• Maggie's Story relates to the article in the 2015-2016 Respect Life Program http://www.usccb.org/about/pro-life-activities/respect-life-program/2015/shareable-respect-life-graphics-respect-life-program-2015-16.cfm#Maggie

Some of these videos are posted on the USCCB website:
http://www.usccb.org/issues-and-action/human-life-and-dignity/assisted-suicide/to-live-each-day/assisted-suicide-videos.cfm
Dignity of the Human Person short video featuring Archbishop Robert Barron and others (Catholic Relief Services) https://www.youtube.com/watch?v=ABRl2ZSs58E
Live On. Disabled Lives Are Worth Living brief video (PSA) by Center for Disability Rights taking on Hollywood:
https://youtu.be/PLPAzs0A5-Q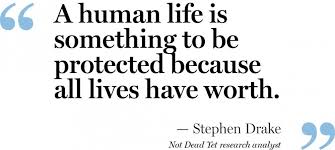 (Not Dead Yet has been opposing assisted suicide for 25 years. They are affiliated with the Center for Disability Rights of NY, which is headquartered in Rochester. Both groups have been working with the NYS Catholic Conference in alliance to oppose the PAS bill in NYS.)
Resources from the United States Conference of Catholic Bishops (USCCB): usccb.org/toliveeachday
Highlights of key resources on this site follow:
U.S. Bishops' Policy Statement on Assisted Suicide
"To Live Each Day with Dignity" (2011)
Printable version with hyperlinks.
UPDATED FACT SHEET - Assisted Suicide Laws in Oregon and Washington: What Safeguards?, February 11, 2016
Prayer Resources – Prayers, Litanies, and Intercessions
Select Educational Articles
-Maggie's Story: Living Like Dad, by Maggie Karner, Respect Life Program 2015-16 (en español) (video of her is on this web page)
-Life Matters: Doctor-Assisted Death, by William L. Toffler, MD, 2012 (en español)
The True Face of Assisted Suicide, by Richard Doerflinger, Life Issues Forum, February 26, 2016 (en español)