Diocesan Missions
Diocesan Missions

Brazil | Chile
Mission of the Sisters of St. Joseph in Brazil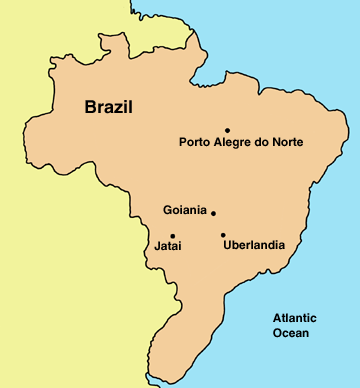 History

In 1964 the Sisters of Saint Joseph of Rochester began their ministry in Brazil."
Thirty five years later, 13 Sisters of St. Joseph of Rochester, including four Brazilians, continue their service in Brazil.
Activities
Much of the Sisters' service in Brazil today focuses on preparing and working with lay persons as full participants in the Church as people of God. In the 15 communities where they serve, there is only one resident priest.
The Sisters help parents prepare for their children's baptisms.
They work with lay religion teachers to help them assume the sacramental preparation of Brazil's children, young people, and adults.
They prepare lay teams to celebrate weekend liturgies.
They work with neighborhood groups who meet to reflect on the Gospel and how it calls them to action.
The Sisters are also involved in hospital care and administration, as well as in direct care-giving at clinics and in homes.
No matter what their daily work is, a major concern for the Sisters is the defense of human rights.
They serve on community health and education councils
They coordinate programs that support human needs such as literacy for adults, agrarian reform, and the rights of women and children.
They participate in committees that defend the rights of indigenous populations.
Sisters of St. Joseph in Brazil
Formation Community - Goiania
Sister Janet Connorton
Sister Katherine Popowich
Irma Maria Jose Monteiro de Oliveiro
Novitiate Community - Goiania
Sister Ellen Kuhl
Sister Suzanne Wills
Irma Elizabete Alves Gama
Irma Joana Dalva Alves Mendes
Uberlandia
Sister Anne Marvin
Irma Ireny Rosa da Silva
Porto Alegre do Norte
Sister Jean Bellini
Sister Maureen Finn
Paranaiguara Goias
Sister Christel Burgmaier
Itaguacu/Sao Simao
Sister Barbara Orczyk
---
---
Mission of the Sisters of Mercy in Chile
History
The Chilean Mission was founded in1965 by Mother Bride Claire, RSM, from Rochester, NY, as a response to the request of Pope John the XXIII. Four Sisters were selected from 96 that applied that year. In August of that year they were sent to study Spanish in Cuernavaca, Mexico for four months and landed in Santiago, Chile on December 24, 1965. They established themselves in a very large urban poor parish called San Luis, working with the Irish Columbian Fathers.
Activities
The Sisters have worked to develop lay leadership in small Christian communities and have dedicated much of their pastoral work to women and children. Some of their more specific works include the following:
Instructing lay catechists who in turn teach other adults in the sacramental preparation of their children.
Training lay ministers of the Word and other liturgical functions.
Working in the development of small Christian Communities.
Ministering to women, teaching them techniques in health care, developing their God-given gifts while encouraging them to become leaders in the community.
Working in formation of youth and accompanying them in their journey toward adulthood.
Participating in works of justice and peace at all levels

Sisters of Mercy in Chile
Copiapo, Comunidad Maria de Guadalupe
S. Joanne Deck (Rochester, NY)
S. Maria Ines Olguin Caro (Chile)
Santiago, Poplacion Huamachuco
S. Soledad Cantillana Calderon (Chile)
S. Margaret Milne (New Zealand)
S. Lilian Silva Aparicio (Chile)
Santiago, Comunidad San Luis
S. Janet Caufield (Rochester, NY)
S. Josephine Twomey (Ireland)
Puente Alto
S. Veronica Ekerick (Australia)
Rungue
S. Lia Gonzalez Sandoval (Chile)
S. Anne Marie Mathis (Rochester, NY)
S. Theresa Rutty (Rochester, NY)
S. Valeria Vicencio Catalan (Chile)
Vina del Mar, Comunidad Nueva Aurora
S. Jane Kenrick (Rochester, NY)