Diocesan Religion Curricula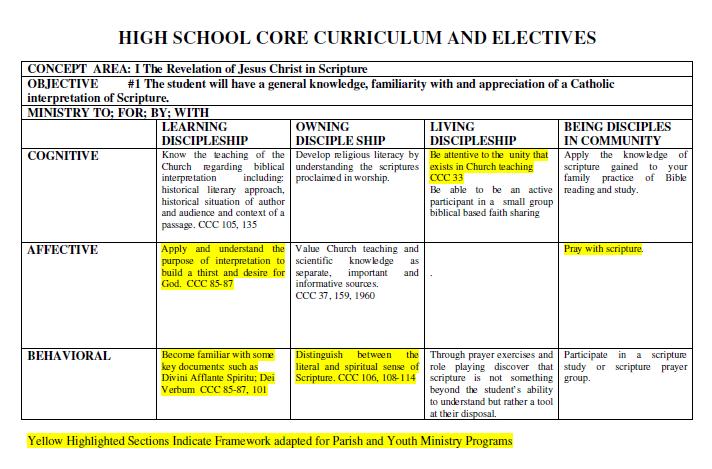 The Diocesan Religion Curriculum contains the required standards for catechesis of youth grades Pre-Kindergarten through 12. The Pre-Kindergarten through Grade 5 Curriculum was most recently revised in 2006, the Young Adolescent Curriculum (Grades 6-8) revised in 2011, and the Adolescent Catechesis Curriculum (Grades 9-12) was developed and promulgated in 2010.
Functionally, our curriculum identifies the content of our Faith to which children in grades Pre-Kindergarten through Grade 12 are to be introduced. It is for use by all catechetical programs in the diocese: Catholic Schools, parish-based programs, home schooling and youth ministry/adolescent catechesis programs.
There are some basic foundational components to the structure of the curriculum:
the goal of the curriculum is to guide all Catholics toward an adult, living, vibrant, growing faith;
the scope of an adult faith is so extensive that all points of faith can not - nor necessarily should be - included in a curriculum for youth classes and programs;
no single textbook or published material could cover all necessary content foci.
Overview of the Diocesan Religion Curriculum
The Department of Evangelization and Catechesis maintains the
Religion Curriculum for educational programming in parishes and Catholic Schools.
Curriculum for Primary (Grades PK-5)
Curriculum for Young Adolescent Catechesis (Grades 6-8)
Curriculum for Adolescent Catechesis (Grades 9-12)