Leadership Commissions
The Leadership Commissions support and enhance ministry with the largest ethnic/cultural groups within the Roman Catholic Diocese of Rochester: African American/African descent, Asian/Pacific Islander, and Hispanic. Commission members help further the work of the Office for Cultural Diversity by promoting leadership, fostering evangelization, and bringing to light the pastoral and social concerns of the various ethnic/cultural communities. They also assist in the implementation of the respective plans for pastoral ministry.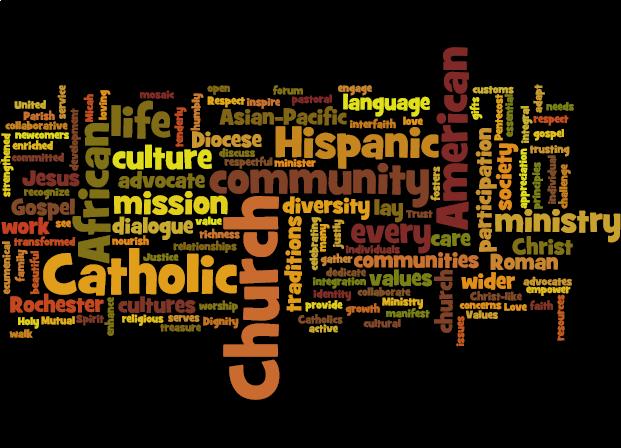 Commission Members
Qualifications: People of faith who are dedicated to the Church and express an enthusiasm for ministry. Leadership Commission members require a commitment of time and energy, along with a desire to grow and learn throughout the year. Members must be able to communicate clearly and work cooperatively in a group for the success of the Commission.
Roles and Responsibilities
REPRESENTATIVE
To officially represent their culture in our Diocese
To represent the Commission at various activities that is sponsored by the Office for Cultural Diversity, Diocesan or joint efforts of the parishes
To live by Catholic values in all aspects of their lives
PARTICIPANT
To become part of a faith-filled group that works effectively together by actively participating at the Commission meetings
To meet at least once every three months as part of the Commission and sometimes participate as leaders for various subcommittees (two unexcused or four excused absences are grounds for dismissal from the Commission)
To participate in an annual retreat and planning day
To participate in programs sponsored by the Office for Cultural Diversity
To encourage others to participate in Diocesan and parish activities
ADVOCATE
To bring to light the needs of the various ethnic/cultural groups to the Office for Cultural Diversity and appropriate departments of the Diocese
To work with appropriate diocesan offices to identify and/or develop linguistically and culturally appropriate resources
To participate, when directed, on various boards for the Diocese or special interest groups
FACILITATOR
To share information, plans, ideas and concerns among and between parishes, and the Office for Cultural Diversity
To establish consistent, regular communication with parish leaders in your community
To report on activities in your community at each Commission meeting
To communicate and work with the Office for Cultural Diversity staff
ORGANIZER
To plan and implement activities of the Office for Cultural Diversity
To assist in planning and implementing activities among parishes and coordinate those plans with the Office for Cultural Diversity
For more information, contact Lynette Saenz at 585-328-3228 ext. 1318 or lsaenz@dor.org.