Refugee & Migrant Ministry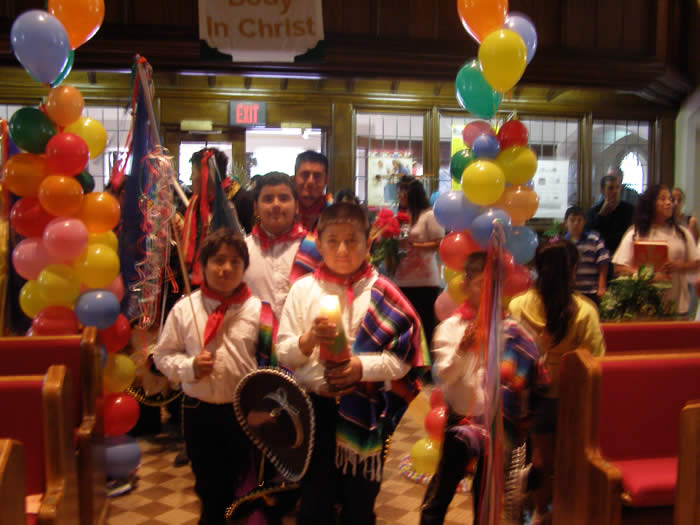 "For I was a Stranger and You Welcomed Me" - Matthew 25:35
"We know that the Church has become as much an immigrant church today as it was a hundred years ago. Our vision for the future is that, as Catholics, we will be more integrated to our local churches and communities, sharing our gifts and traditions, as well as learning from and accepting others so that in our diversity, we can truly affirm our Catholicity. We hope to learn more and that others will learn from us too. We would like to see immigrants, refugees, and travelers in the United States take leadership roles in the local church and community and that the receiving church become more aware of the pastoral challenges new comers face. As integrated immigrants, we want to contribute and be part of the US Catholic church that will reach out to the newly arrived." (Ibay, 2010, USCCB Catholic Cultural Diversity Convocation)
---
Refugee Ministry
Our mission is to expand the consciousness of all our parishes as to the presence of refugees in our diocese and communicate information about the opportunities that are available for ministry, outreach, and assistance. We will do this by researching available resources for ministry with refugees and collaborating with parishes and community organizations that serve this significantly increasing population.
For more information, please contact George Dardess at gdardess@yahoo.com.
---
Hispanic Migrant Ministry

Catholic Migrant Ministry is rooted in the church's teaching that we all are sisters and brothers. It seeks to build up migrant workers as people of faith. It also fosters a mutual sharing of gifts, both material and spiritual, between all migrant workers and the other faith communities of the Diocese of Rochester.
As Catholics we, embrace the growing number of migrants, welcome migrant families to our communities, actively reach out to identify their needs, provide support for their faith formation, seek to foster community, solidarity and justice, and offer support in crisis situations.
Quick Facts
Twenty thousand migrant workers labor in our fields, dairy farms, factories, greenhouses, and restaurants.
Migrant workers have been coming in to our diocese from Mexico, Central and South America in increasing numbers.
The majority of migrant workers are Catholic.
The diocese has initiated mission sites in Sodus, Geneva, Brockport and Mt. Morris to support migrant workers.
Full and part-times ministers are serving the camps throughout our 12 counties.
Migrant Ministry is the responsibility of the whole Catholic Community.
Our faith communities and diocese need to be supported in order to meet the pastoral needs of the migrants.
We need help from all who would be able to assist financially or through volunteering.
---
Hispanic Migrant Ministry Staff
Fr. Jesus Flores

Diocesan Coordinator

585-328-3210, ext. 1354
flores@dor.org

Penny Gardner

NW Monroe & Livingston Counties

1150 Buffalo Road

Rochester, NY 14624

585-509-0423

Luci Romero

Wayne County

Nuestra Señora de Guadalupe

3799 Union Street

Marion, New York 14505
315-331-2976

Sr. Kay Schwenzer

Ontario/Yates Counties

Our Lady of Peace Parish

130 Exchange St.

Geneva, NY 14456