Black History and Traditions
"One of the most interesting and faith-filled stories within the Catholic Church in America is that which has been written by African American Catholics. They kept their hands on the plow of faith and their eyes fixed on Jesus. They were persistent and persevered under discouraging times. They were not distracted when faced with societal ills and moral misjudgments that forged rocky fields and thorny patches. They kept their hands on the plow when dark shadows of racism clouded the field. With great self-determination and steadfast activism, African Americans carved a place for themselves within the Catholic Church in America. They kept moving forward, planting seeds everywhere. They established religious orders, formed the first lay religious organization, and called forth vocations at the same time as they built churches and schools. They kept plunging forward, confronting the contradictions that existed within the institution. For only a people who know what they want to plant can look forward to a fruitful future."

Most Rev. Curtis J. Guillory, SVD Bishop of Galveston-Houston
Bishop's Committee on African American Catholics, 1996
---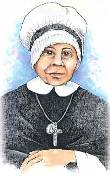 Mother Mary Elizabeth Lange, O.S.P. (1784-1882)
Servant of God Mother Mary Elizabeth Lange, was the foundress of the Oblate Sisters of Providence, and St. Frances Academy, a high school in Baltimore, Maryland. Elizabeth was born in the 1780s, a native of the Caribbean, her country of birth is not documented but oral tradition says she was born in Haiti and moved with her family to Santiago de Cuba.

Her coming to to the United States resulted, it seems, from the Haitian Revolution of 1791. Elizabeth worshiped initially in the lower Chapel of St. Mary's seminary (reserved for Negroes and slaves). She was a friend of monsieur Moranville, who was pastor of St. Patrick's Church in Fells Point. It was to this priest that Elizabeth Lange first expressed desires to consecrate her life to God as a religious.

The Oblate Sisters of Providence were the first congregation of women religious of African descent. On July 2, 1828, four Black women met in a Baltimore row house to pronounce simple vows. When the ceremony was over, a new order of nuns was born within the Catholic Church in a slave holding state. This was the beginning of a legacy that has thrived over the past 177 years in 25 cities in the United States, Cuba, Costa Rica, the Dominican Republic, and most recently Africa.

Elizabeth had four strikes against her: 1) a Black in a slave holding state; 2) a woman in a man-dominated society, 3) a Catholic in a Protestant nation; and 4) an alien speaking French in an English city.

Despite these strikes Elizabeth was a spiritual woman and a woman of strong determination, willing to overcome all obstacles. The early works of the Oblate Sisters grew out of Elizabeth's willingness to serve the church and to serve her people. In Baltimore, there were many Black refugees from Santo Domingo. She wanted to provide educational opportunities for these children and young women and help to pass on traditions of a land they had left behind.
Fortunately, Providence provided Elizabeth with friends and benefactors who, like herself, were foreign to American soil and themselves victims of violence from other revolutions. Such persons knew well the meaning of cultural transition.
Some of Elizabeth Lange's Accomplishments were:
She sought spiritual direction from the President of St. Mary's College. Her interest was the education for free black girls, a school that would include music, the classics, and fine arts in the curriculum. The school records of 1830s and 40s show the students involved in choirs, concerts, and recitals. To direct her students to strive for excellence medals and awards were given in various subjects.
Yearly, examinations were given by faculty members from St. Mary's College and later by the Jesuits from Loyola College. In 1828, it is recorded that Elizabeth took in three children to be educated free.
From account books and ledgers of the school, we can measure Elizabeth Lange's business skills. The annals show payments of those benefactors who provided scholarships for the students. The diaries show the method of payment and one entry called for a meeting to discuss new accounting procedures.
Her school provided vocational training for students, which included household arts such as fine serving and embroidery. their skills were put to use in the business of making vestments for church services.
Scripture and religious instruction were offered to the young ladies as a legacy to pass on to others. Elizabeth opened her church doors to all for Masses, benediction and other spiritual gatherings. However, Elizabeth's church was for Black Catholics and the last six pews were reserved for White persons.
When news reached the sisters that two girls were motherless, Elizabeth went to the house and brought the children to the convent. One year after the establishment of the order, the sisters began taking in widows and elderly women who had no place to go in their old age.
During the cholera epidemics in Baltimore, Elizabeth and the sisters worked in the almshouse caring for the Black inmates.

Even through hardships of a special nature entered Elizabeth's life in the 1840s, ne knows Elizabeth Lange as a religious pioneer. Elizabeth Lange knew triumph, but she also knew ridicule. Elizabeth, at times, experienced many setbacks. each apparent failure and success were steps in the accomplishment of His work. Elizabeth did not despair or become despondent. She had the combination of faith and hope. She knew that He who cares for the lilies of the fields and the birds of the air, would provide for her and her sisters and her students. Mother Lange died on February 3, 1882.

In 2005 three schools (St. Dominic School, Shrine of The Little Flower and St. Anthony of Pauda) combined themselves into Mother Mary Lange Catholic School, thus becoming the first school named after her in America. 2008 will mark the 180th anniversary of her founding of St. Frances Academy.
Born a slave on the isle of St. Domingue, Elizabeth date of birth is uncertain, though her death certificate of 1882 had her age at 98 years old.

Courtesy of Wikipedia

For more information of Mother Mary Elizabeth Lange, please visit the following sites: