Forward in Hope
November 2009
Bishop Clark's new book
examines lay ecclesial ministry
Forward in Hope by Bishop Matthew H. Clark examines the ever-growing significance of lay ecclesial ministry and the way it is changing the face of the Catholic Church, and offers Bishop Clark's personal experience and insights. The book also features essays by several seasoned lay ecclesial ministers working in the Diocese of Rochester: Anne-Marie Brogan, Charlotte Bruney, Rose Davis, Deborah Housel and Patrick Fox. Author and scholar Zeni V. Fox has written the book's foreward.
Bishop Clark has directed that all proceeds from sale of the book benefit St. Bernard's School of Theology and Ministry.
Currently in the U.S., there are over 30,000 lay ecclesial ministers serving the Catholic Church, and another 16,000 studying in ministry formation programs. In the Diocese of Rochester and other areas of the country, lay ecclesial ministers are administering the daily operation of numerous parishes and serving in crucial roles in youth, music and religious education ministry, among other ministries.
"I offer in this book my personal thoughts on lay ecclesial ministry and stories from my thirty years experience as bishop, forty-seven as a priest, and a lifetime of being a Catholic because I believe we can build a better understanding and wise embrace of lay ecclesial ministry," Bishop Clark writes in Forward in Hope.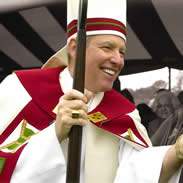 Bishop Clark has served the Diocese of Rochester as bishop for more than 30 years. Born and raised in the Albany suburb of Waterford, he attended Catholic high school and then entered seminary in Albany. He was ordained as a priest in 1962. Following ordination, he served as a parish priest and later as Vice Chancellor of the Roman Catholic Diocese of Albany. He studied at the North American College in Rome, where he also served as spiritual director, and at Gregorian University, earning advanced degrees in theology and canon law. Ordained a bishop in May of 1979 by Pope John Paul II, he was installed as the eighth Bishop of Rochester in June 1979.
Additional Resources:
Ave Maria Press website on "Forward in Hope" (including online orders)
More information on Bishop Matthew H. Clark
United States Conference of Catholic Bishops' website on Lay Ministry
USCCB: "Co-workers in the Vineyard of the Lord" (pdf file)
June 11, 2018
May 1, 2018
April 17, 2018
April 12, 2018
April 9, 2018
April 9, 2018
April 9, 2018
March 5, 2018
February 15, 2018
February 9, 2018
January 24, 2018
January 19, 2018
December 21, 2017
December 18, 2017
December 5, 2017
October 30, 2017
September 29, 2017
September 26, 2017
August 10, 2017
More Results: