Letter to Parents/Guardians of Catholic school children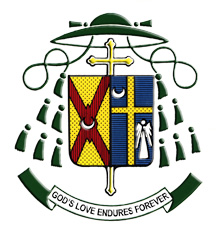 Bishop's Office


Diocese of Rochester
1150 Buffalo Road • Rochester, NY 14624-1890
(585) 328-3210 • fax (585) 328-3149
January 18, 2008
Critical issues addressed by Schools Task Force
· A spiraling deficit of more than $1 million for our Monroe County school system, which, unchecked, would rise to more than $5 million next year.
· Escalating tuition costs in recent years, pressuring families financially and forcing many to look elsewhere for their children's education.
· An enrollment decline from nearly 9,000 pupils a decade ago to just over 4,800 this school year – a 45 percent drop.
· With enrollment declining and many buildings under capacity, average cost per student jumped from about $2,700 ten years ago to more than $6,000 now. In some individual schools, these trends were much worse, ranging as high as $12,000.
Dear Catholic School Parents/Guardians:
As you know, I asked a special task force of 23 people this past fall to examine ways we could tackle critical issues facing Catholic Schools in our diocese, including a growing financial deficit, rising costs, declining enrollment and a number of schools operating well under capacity.
Task force members, among them former and current Catholic School parents and alumni, met many times over the last few months for school-by-school study and financial analysis. They explored many different scenarios. On Jan. 3, Task Force members made two key recommendations that I have accepted after much thought and prayer:
1. Thirteen Catholic schools in Monroe County will close at this school year's end in June. This restructuring plan is aimed at stabilizing the financial situation and allowing us to better concentrate our resources. By doing so, we strive to ensure Catholic Schools, albeit fewer in number than now, will be strong and present in the years to come.
2. The tuition rate per child will be reduced substantially – starting at $2,950 for one child of parish-sponsored families (see table below for more information). This lower rate will make a Catholic education more affordable for more people, thereby increasing enrollment and further strengthening our remaining schools.
I firmly believe that the changes we are implementing are essential. By acting now, we can free the system of potentially crippling financial woes and work to ensure our overall Catholic School program will not just survive but thrive in the future. We can focus all our resources on a core of strong and vibrant schools, striving to make them centers of excellence now and for many years to come.
LIST OF SCHOOLS TO CLOSE
While I believe that the ultimate goal of financial solvency and viability for our entire system will be met by these actions, I am nevertheless saddened to announce that the following schools will close at the end of this school term in June 2008:
All Saints Catholic Academy, Gates
Catherine McAuley School, Greece
Corpus Christi School, Rochester
Good Shepherd School, Henrietta
Holy Cross School, Rochester
Holy Family School, Rochester
Holy Trinity School, Webster
St. Andrew School, Rochester
St. Boniface School, Rochester
St. John the Evangelist, Spencerport
St. John of Rochester, Fairport
St. Margaret Mary School, Irondequoit
St. Monica School, Rochester
I extend my heartfelt support and my prayer in what is surely troubling news to those affected by the closings. I give you my sincere thanks for all you have done in the past to support these schools. Please also know that I am committed to offering Catholic education for all families who wish it for their children. Our remaining schools are ready and willing to help you.
I do hope and pray that you will consider continuing your child's Catholic education at one of the schools remaining open. Registration for the 2008-09 school year has been extended from Feb. 7 until March 19, 2008, for currently enrolled students. In the coming days, you will be receiving information about special opportunities to meet staff at schools near you, either at those schools or at your own, and to visit those schools.
To those families whose schools are remaining open, I ask that you be a light of welcome and encouragement and do all you can to help others affected by these closings to continue their children's Catholic education.
TUITION TO BE REDUCED; $500 ADDITIONAL INCENTIVE FOR FAMILIES AFFECTED BY CLOSINGS
As a result of the task force's work, school tuition for parish-sponsored families will decrease substantially (see chart below). As an added incentive to those whose children attend a school that will close, we are offering a one-time $500 extra credit per family off the new tuition rate if you register at another Monroe County Catholic school. Financial aid will still be available to all those who qualify.
| | |
| --- | --- |
| Parish-sponsored families | Non-parishioner families |
| One child $2,950 * | One child $3,975* |
| 2nd child $1,770 | 2nd child $2,385 |
| Each add'tl child** $950** | Each add'tl child $1,250 |
* Minus one-time $500 per family re-enrollment incentive for those whose child's school is closing
**Total K-8 tuition for parish-registered families not to exceed $7,300 per family
If you need more information, please call 23-LEARN (235-3276) or email schools@dor.org. Again, I thank you for your ongoing commitment to Catholic Schools. I also wish to give special thanks to all our principals, teachers and staff for their hard work and dedication. I pray you agree that the changes we are making are meant to ensure our long tradition can continue.
With every good wish, I remain,
Your brother in Christ,





†Matthew H. Clark
Bishop of Rochester