Leadership Commissions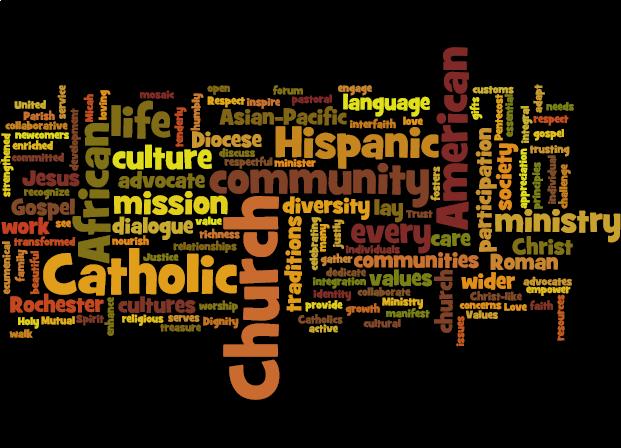 The Leadership Commissions support and enhance ministry with the largest ethnic/cultural groups within the Roman Catholic Diocese of Rochester: African American/African descent, Asian/Pacific Islander, Deaf and Hispanic.
Commission Members
Commission members help further the work of the Office for Cultural Diversity by promoting leadership, fostering evangelization, and bringing to light the pastoral and social concerns of the various ethnic/cultural communities. They also assist in the implementation of the respective plans for pastoral ministry.
Responsibilities:
To officially represent their culture and bring to light their needs
To assist in planning and implementing activities of the Office for Cultural Diversity
To share information, plans, ideas and concerns among and between parishes, communities and the Office for Cultural Diversity
To encourage others to participate in Diocesan and parish activities
Qualifications:
Person of faith who is dedicated to the Church and expresses an enthusiasm for ministry
A commitment of time and energy, along with a desire to grow and learn throughout the year
Ability to communicate clearly and work cooperatively in a group
Length of commitment:
Term limit: Two years
Meetings: Commission meeting once every three months (video conferencing possible). Participate in planning meetings and the actual events. The amount of planning required will vary according to the kind of activity being planned.
Training required:
Orientation meeting in August
Responsible to:
Lynette Saenz, Director
Office for Cultural Diversity
Department of Pastoral Services
Roman Catholic Diocese of Rochester
Benefits of the position to the leader:
Opportunity to become part of a faith-filled group; to learn about other cultural groups and share personal interests and abilities with the Diocesan community; to receive support of other adult leaders.
For more information, contact Lynette Saenz at 585-328-3228 ext. 1318 or lsaenz@dor.org.