Stewardship Day 2011
"The Joy of Stewardship" Resource Center
STEWARDSHIP DAY 2011 RESOURCES
Communicating for Successful Stewardship
CYO Stewardship (B) with Checklist
To learn more about our Joy of Stewardship program, please view our Intro Brochure, the U.S. Bishops' Pastoral Letter and our award-winning video below.
For more information, please call our offices at (585) 328-3228 ext. 1297 (toll-free 800-388-7177) or e-mail us. We are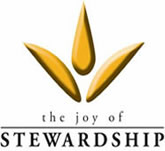 committed to helping your parish team.
FAQ on Stewardship
Stewardship resources for parishes
Manual Table of Contents – PDF
Joy of Stewardship Leadership Manual – PDF
Manual Appendix – Word
Commitment Card – PDF
The Joy of Stewardship Logo – JPG Image

Stewardship Day Resources: 2010 • 2009 • 2008 • 2007
Stewardship Reflection
My church is composed of people like me. I help make it what it is. It will be friendly, if I am. Its pews will be filled, if I help fill them. It will do great work, if I work. It will make generous gifts to many causes, if I am a generous giver. It will bring other people into its worship and fellowship, if I invite and bring them. It will be a church of loyalty and love, of fearlessness and faith, and a church with a noble spirit, if I, who make it what it is, am filled with these same things. Therefore, with the help of God, I shall dedicate myself to the task of being all the things that I want my church to be.