"The Joy of Stewardship" Resource Center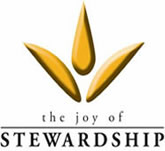 Stewardship Day 2014 at Church of the Assumption was a wonderful event.
Thank you to all those who attended!
Here are some resources from the day:
Presentation 1 by Father Mark Reamer
Presentation 2: Sue Mathys and Father Mark Reamer
Workshop, Parishioner Engagement, by John Cunneen
Workshop on Parish Stewardship, by Deacon John McDermott.
What is Christian Stewardship?
____________________________________________________________________________________________
To learn more about our Joy of Stewardship program, please view our Intro Brochure, the U.S. Bishops' Pastoral Letter and our award-winning video below.
For more information, please call our offices at (585) 328-3228 ext. 1297 (toll-free 800-388-7177) or e-mail us. We are committed to helping your parish team.
Stewardship resources for parishes
Manual Table of Contents – PDF
Joy of Stewardship Leadership Manual – PDF
Manual Appendix – Word
Commitment Card – PDF
The Joy of Stewardship Logo – JPG Image
Previous Stewardship Day Resources: 2011 • 2010 • 2009 • 2008 • 2007
Stewardship Reflection
My church is composed of people like me. I help make it what it is. It will be friendly, if I am. Its pews will be filled, if I help fill them. It will do great work, if I work. It will make generous gifts to many causes, if I am a generous giver. It will bring other people into its worship and fellowship, if I invite and bring them. It will be a church of loyalty and love, of fearlessness and faith, and a church with a noble spirit, if I, who make it what it is, am filled with these same things. Therefore, with the help of God, I shall dedicate myself to the task of being all the things that I want my church to be.