A secure, easy way to make your gift to the CMA.
Support the CMA and Your Parish Today!
1. Send a text to (585) 257-2929 or (833) 641-0518 (toll free)
To support all parishes, text "CMA995"
To donate to a particular parish, text "CMA###", where the "###" is the Parish Code (For example, to donate to Blessed Sacrament, Rochester, text "CMA002".)
See list of Parish Codes Below.
2. Follow the prompts
3. Register your credit or debit card.
You will receive an acknowledgment of your gift immediately via text or email.
Message and data rates may apply. There is no  additional charge to text outside of your area code.
By using Txt2Give, you agree to the Terms and Conditions. Users can stop or unsubscribe any time by texting STOP to (585) 257-2929.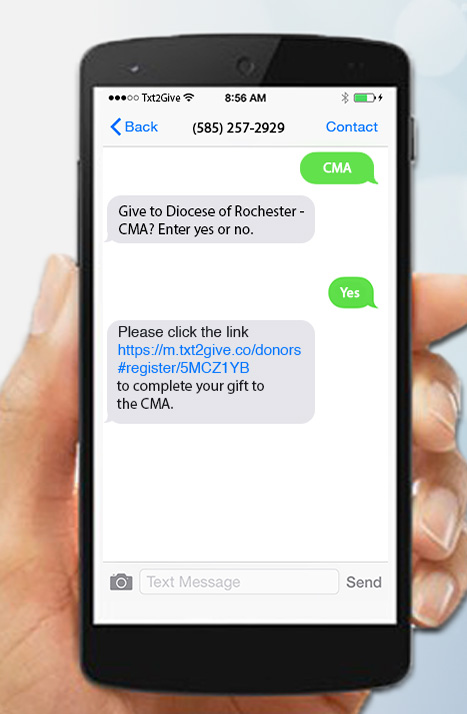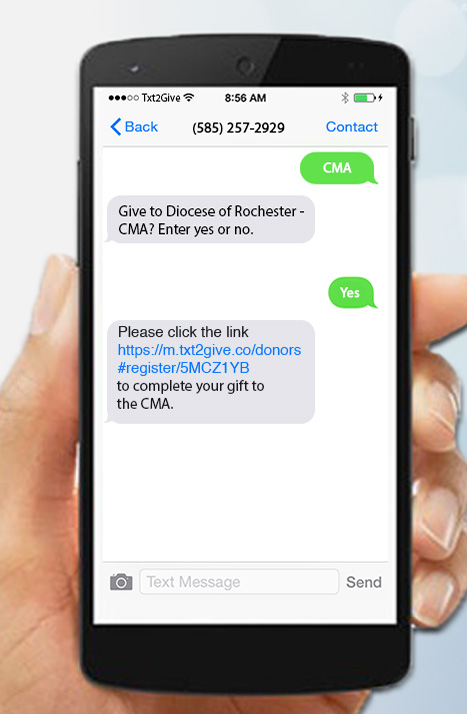 | | |
| --- | --- |
| CMA273 | All Saints, Lansing |
| CMA338 | All Saints, Corning |
| CMA002 | Blessed Sacrament, Rochester |
| CMA340 | Blessed Trinity, Owego |
| CMA345 | Blessed Trinity Catholic Community, Wolcott |
| CMA354 | Cathedral Community Church, Rochester |
| CMA248 | Church of the Assumption, Fairport |
| CMA334 | Church of the Resurrection, Fairport |
| CMA336 | Church of the Transfiguration, Pittsford |
| CMA512 | Cornell Catholic Community, Ithaca |
| CMA058 | Emmanuel Church of the Deaf, Rochester |
| CMA337 | Good Shepherd Catholic Community, Aurora |
| CMA007 | Holy Apostles, Rochester |
| CMA008 | Holy Cross, Rochester/Charlotte |
| CMA233 | Holy Cross, Freeville |
| CMA204 | Holy Family, Auburn |
| CMA342 | Holy Family Catholic Community, Wayland |
| CMA294 | Holy Spirit, Penfield |
| CMA326 | Holy Trinity, Webster |
| CMA266 | Immaculate Conception, Ithaca |
| CMA014 | Immaculate Conception/St. Bridget's, Rochester |
| CMA400 | Latin Mass Community, Rochester |
| CMA368 | Mary, Mother of Mercy, Interlaken |
| CMA370 | Most Holy Name of Jesus, Elmira |
| CMA215 | Nativity of the Blessed Virgin Mary, Brockport |
| CMA017 | Our Lady of Lourdes, Rochester/Brighton |
| CMA346 | Our Lady of Peace, Geneva |
| CMA359 | Our Lady of the Lakes, Penn Yan |
| CMA343 | Our Lady of the Snow, Weedsport |
| CMA341 | Our Lady of the Valley, Hornell |
| CMA022 | Our Lady of Victory, Rochester |
| CMA021 | Our Lady Queen of Peace, Rochester/Brighton |
| CMA023 | Our Mother of Sorrows, Rochester/Greece |
| CMA367 | Parish of the Holy Family, Gates |
| CMA348 | Peace of Christ, Rochester |
| CMA507 | RIT Center for Religious Studies, Rochester |
| CMA205 | Sacred Heart, Auburn |
| CMA357 | Saint Kateri Tekakwitha, Irondequoit |
| CMA355 | Ss. Isidore & Maria Torribia, Addison |
| CMA363 | Ss. Mary and Martha, Auburn |
| CMA212 | St. Agnes, Avon |
| CMA207 | St. Alphonsus, Auburn |
| CMA290 | St. Ann, Owasco/Auburn |
| CMA026 | St. Anne Church, Rochester |
| CMA520 | St. Ann's Community, Rochester |
| CMA255 | St. Anthony, Groton |
| CMA365 | St. Benedict's Parish, Canandaigua |
| CMA287 | St. Benedict's Chapel, Odessa |
| CMA029 | St. Boniface, Rochester |
| CMA267 | St. Catherine of Siena, Ithaca |
| CMA277 | St. Catherine of Siena, Mendon |
| CMA032 | St. Charles Borromeo, Rochester/Greece |
| CMA333 | St. Christopher, North Chili |
| CMA335 | St. Elizabeth Ann Seton, Hamlin |
| CMA358 | St. Frances Xavier Cabrini, Rochester |
| CMA366 | St. Francis & St. Clare, Waterloo |
| CMA035 | St. George Lithuanian, Rochester |
| CMA237 | St. Jerome, East Rochester |
| CMA525 | St. John Fisher Catholic Community, Rochester |
| CMA249 | St. John of Rochester, Fairport |
| CMA039 | St. John the Evangelist, Rochester/Greece |
| CMA316 | St. John the Evangelist, Spencerport |
| CMA361 | St. John Vianney, Bath |
| CMA364 | St. Joseph the Worker, Clyde |
| CMA295 | St. Joseph's, Penfield |
| CMA356 | St. Katharine Drexel, Macedon |
| CMA041 | St. Lawrence, Rochester/Greece |
| CMA259 | St. Leo, Hilton |
| CMA300 | St. Louis, Pittsford |
| CMA344 | St. Luke the Evangelist, Geneseo |
| CMA362 | St. Marianne Cope, Henrietta/Rush |
| CMA044 | St. Mark's, Rochester/Greece |
| CMA369 | St. Martin de Porres, Caledonia |
| CMA045 | St. Mary. Rochester |
| CMA323 | St. Mary of the Lake, Watkins Glen |
| CMA264 | St. Mary Our Mother, Horseheads |
| CMA210 | St. Mary's, Auburn |
| CMA260 | St. Mary's, Honeoye |
| CMA339 | St. Matthew, Livonia |
| CMA353 | St. Maximilian Kolbe, Ontario |
| CMA283 | St. Michael's, Newark |
| CMA047 | St. Monica, Rochester |
| CMA291 | St. Patrick's, Owego |
| CMA321 | St. Patrick's, Victor |
| CMA261 | St. Paul of the Cross, Honeoye Falls |
| CMA331 | St. Paul's, Webster |
| CMA360 | St. Peter's, Clifton Springs |
| CMA051 | St. Pius Tenth, Chili |
| CMA327 | St. Rita's, Webster |
| CMA270 | St. Rose, Lima |
| CMA053 | St. Stanislaus Kostka, Rochester |
| CMA054 | St. Theodore's, Gates |
| CMA057 | St. Thomas More, Rochester/Brighton |
| CMA508 | UofR Newman Community, Rochester |
| CMA995 | No Parish/Church |