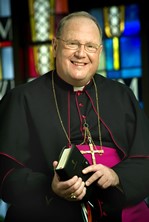 Archbishop Dolan visiting Sacred Heart Cathedral for special Mass June 22
His Excellency, Timothy M. Dolan, Archbishop of New York, will be the homilist at a 10:30 a.m. Mass June 22, 2010, at Sacred Heart Cathedral, 296 Flower City Park, Rochester.
The Archbishop is visiting at the invitation of Bishop Matthew H. Clark.
The June 22 Mass honors the patron saint of the Diocese of Rochester, St. John Fisher on his feast day, as well as the service of our 25- and 50-year priest jubilarians, and the culmination of the Year for Priests.
All are welcome to attend.