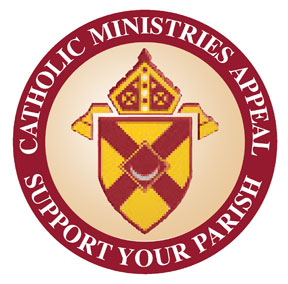 The 2014-15 Catholic Ministries Appeal set a new record for contributions, topping the previous record set last year by more than $100,000. Nearly 29,000 donors contributed $5.665 million to the campaign, which ended May 31. This year's campaign theme was "Attitude of Gratitude."
The average gift to the Appeal also increased from last year to a new high of $197 from $190. This was the eighth straight year the Appeal has raised more than $5 million.
"I am deeply grateful to all those who so generously supported this year's Catholic Ministries Appeal" said Bishop of Rochester Salvatore R. Matano. "By sharing their blessings, they have enriched the lives of many of their sisters and brothers, especially those in need. It is this truly caring spirit and commitment to building up the Body of Christ that makes our Church so strong and vibrant."
The CMA helps fund ministries for more than 340,000 Catholics and others in the 12-county Diocese of Rochester: Monroe, Wayne, Ontario, Cayuga, Livingston, Steuben, Tioga, Chemung, Schuyler, Seneca, Tompkins and Yates counties.