Catholic Press Association honors Karen Franz, Catholic Courier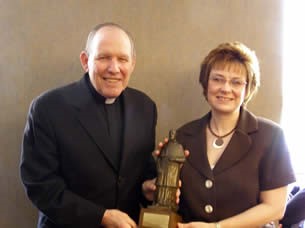 Karen Franz, editor and general manager of the Diocese of Rochester's Catholic Courier, is the 2009 winner of the St. Francis de Sales Award, the highest honor given to an individual by the Catholic Press Association (CPA). The St. Francis de Sales Award is given annually for "outstanding contributions to Catholic journalism."
The award was presented last week during the Catholic Media Convention in Anaheim, Calif. The Catholic Courier also won several awards at the convention, including second place for general excellence for publications with circulation of more than 40,000, and multiple awards for photographers Mike Crupi, Tamara Tirado and Annette Jiminez for her work on El Mensajero,the Spanish language newspaper published by the Courier.
Franz's nomination stated that her "passion for the Catholic press, twinned with good humor, has served as a model for editors throughout the country and for women determined to pursue their vocations as Catholic journalists."
"I very much appreciate the honor," said Franz. "It was amazing to think of the previous winners and to be there among the past winners. It was a very much a humbling experience."
Franz began her career at the Catholic Courier in 1985 as editor. In 1989, while continuing her responsibilities as editor, she became assistant general manager and was promoted to general manager six years later.
The newspaper has been in the forefront of new technology, having launched its Web site in 1996 with continuous updates in design and content. In 2004 she led an effort to change the paper's publication schedule from weekly to monthly, with greater emphasis on delivering new content daily through its Web site. Franz said the newspaper continues to broaden its digital communication outreach through networking sites such as Facebook and Twitter.
Details of the specific awards the Courier received are as follows:
Catholic Courier
1. General Excellence — 40,000+: Second Place COMMENTS: "The Catholic Courier is journalistically very sound with obvious dedication to examining important topics in-depth. Sections on health, schools and family were thorough and compelling. Excellent photography; some of the best I've seen in any newspaper. A strong second place."
2. Sports Photo: First Place to Tamara Tirado for "Something to cheer about" COMMENTS: "Judges felt this was a nice moment, with clean composition. Also has a sense of humor about it with the repeated smiling faces and open mouths. Clearly the best shot in the competition."
3. Best Multiple-Picture Package — Feature: First Place to Mike Crupi for "Statues help us recall lives of saints, others" COMMENTS: "This series of photos takes something extremely familiar and renders it unusual, arresting and evocative. The content everyday nature of the subject — statues of saints — is transformed through the photographer's choice of viewpoint and framing."
4. Best One-Shot Special Issue: Second Place for Volunteering issue. COMMENTS: Catholic Courier's Faith & Family edition provides a crisp and clean presentation of the people who exercise their faith by volunteering. The stories and photos help readers get to know the subjects in each article in the section."
5. Best Portrait: Second Place to Mike Crupi for "Jesus is local painter's favorite subject" COMMENTS: "Good colors and composition, but try more creative approaches when working with a creative subject. Don't just place them with their art."
6. Individual Excellence — Photographer: Third Place to Mike Crupi ("U.S. Catholics welcome pontiff") COMMENTS: "While some may view the use of a silhouette in a photo illustration as cliché, this image was well-executed, and is displayed in a clean, straightforward way. Sometimes the most effective design is simple."
7. Best Seasonal Issue: Third Place for Lenten issue. COMMENTS: "An excellent look at what it takes to keep faith alive and well in these troubling times, nicely told through real people examples."
8. Best Scenic, Still Life or Weather Photo: Honorable Mention to Mike Crupi for "Statues help us recall lives of saints, others"
El Mensajero Católico
1. Best Newswriting — Local or Regional: First Place to Annette Jiménez for "Grupo de vigilancia buscal justicia para los trabajadores migrantes" (a/k/a Church Watch) COMMENTS: "The article succeeds in analyzing the thorny issue of illegal immigration without resorting to blanket statements, and carefully considering various points of view. The quotes from John Ghertner are very powerful, focusing mostly on legality and rights. The piece ends with a poignant call to action."
2. Best In-Depth Analysis: First Place to Annette Jiménez for "Familia considera tratamiento para el Parkinson una bendición" COMMENTS: "The article insightfully combines elements of both faith and science to create a compelling portrait. The result is a piece that both inspires and informs, maintaining the reader connected to the rousing story of the featured individual and the latest breakthroughs in medical treatment."
3. Individual Excellence — Writer/Editor: First Place to Annette Jiménez COMMENTS: "This reporter showed excellent enterprise reporting skills in her body of work. She tacked Parkinson's disease, writing clear explanatory paragraphs in a heart-felt story about a musician stricken at a young age. She also thoroughly reported on immigration and border patrol agents intimidating parishioners from attending church services. Her stories were multifaceted, good reads."
4. Best Multiple-Picture Package — Feature: Honorable Mention to Mike Crupi for "Festival celebra la cultura puertorriqueña"