Through generous donors, dream of a world-class organ becomes a reality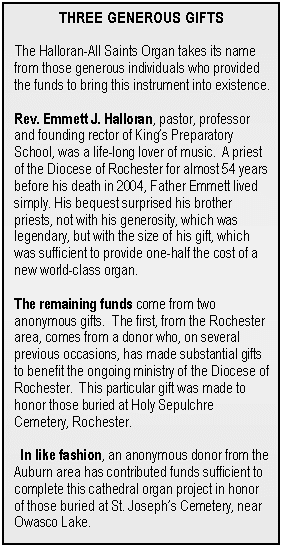 ROCHESTER, New York — Roman Catholi Bishop of Rochester Matthew H. Clark tonight will formally dedicate a nearly 40-foot tall, 25,000-pound tracker organ in a ceremony expected to draw hundreds of people to the Mother Church of the Diocese, Sacred Heart Cathedral on Flower City Park.
To be called the "Halloran-All Saints Organ" and built by the renowned craftsman Paul Fritts of Washington state, the instrument was made possible by three generous gifts, one from the estate of the late Rev. Emmett Halloran (see insert) and two additional gifts by parties wishing to remain anonymous.
The public is welcome to attend the 7:30 p.m. ceremony, which will feature several choirs and an organ concert with sacred music. A reception in the Narthex will follow.
The organ, assembled in Fritts' Washington state studio, was taken apart and carefully packed in boxes, and arrived June 8, 2008, in moving vans. More than 50 parish volunteers helped unload boxes and pipes under the watchful eye of Fritts and his associates, who have spent the past summer assembling the mammoth organ and tuning it to perfection.
"It is with great excitement and gratitude that I dedicate our new tracker organ tonight," Bishop Clark said. "The organ, built so lovingly by Paul Fritts, is an important addition not only to the Cathedral, but our larger community, home to the Eastman School of Music and its well-regarded organ program and with which we have worked closely. As well, we hope it is a clear sign, along with other improvements here, of our investment in a city neighborhood we believe in, one that we hope the newly renovated Cathedral will help flourish."
The Bishop added, "The Cathedral is the Mother Church of our diocese, seat of the bishop, a place where some 25,000 or more people annually come for worship, for priest and deacon ordinations, confirmations, weddings and funerals and so many other important events. We truly believe this organ is an addition worthy of its importance in our life as a Christian community. Made possible only through generous gifts, this instrument, we pray, will not only enhance our worship, but be a powerful and inspiring instrument of prayer through which we can truly honor God and ask God's help for the whole world."
Other resources: