Paul Pickering honored with statewide Catholic Charities award
March 17, 2008
MARCH 17, 2008– Paul T. Pickering, the executive director of the Diocese of Rochester's Catholic Charities Community Services, has been presented the Vincenza DeFazio Award by the New York State Council of Catholic Charities Directors. The award was established in 1992 to recognize someone who has contributed to the work of the council and exemplifies the quiet leadership exhibited by the late Vincenza DeFazio, a long-time attorney for Catholic Charities in New York City.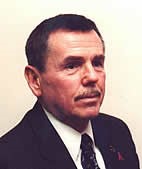 Pickering began working at CCCS in 1982. Under his guidance, the agency has grown from one residential facility with a total budget under $200,000 and 10 consumers to an $8,200,000 agency offering service coordination and other supports to more than 550 persons with developmental disabilities, traumatic brain injury or HIV/AIDS disease.
Over the last 25 years, he has also represented the Diocese of Rochester on several NYS Council of Catholic Charities subcommittees, including the committee for persons with developmental disabilities and the annual convening committee.
"Paul is a dedicated professional who has spent his entire career helping those in need," said Jack Balinsky, diocesan director of Catholic Charities. "Like Vinnie DeFazio, his actions speak louder than his words."
Pickering received his bachelor's and masters' degrees from Niagara University and has more than 38 years experience in the human services field.