Press Association honors Bishop
July 17, 2012
Bishop given press association's England Award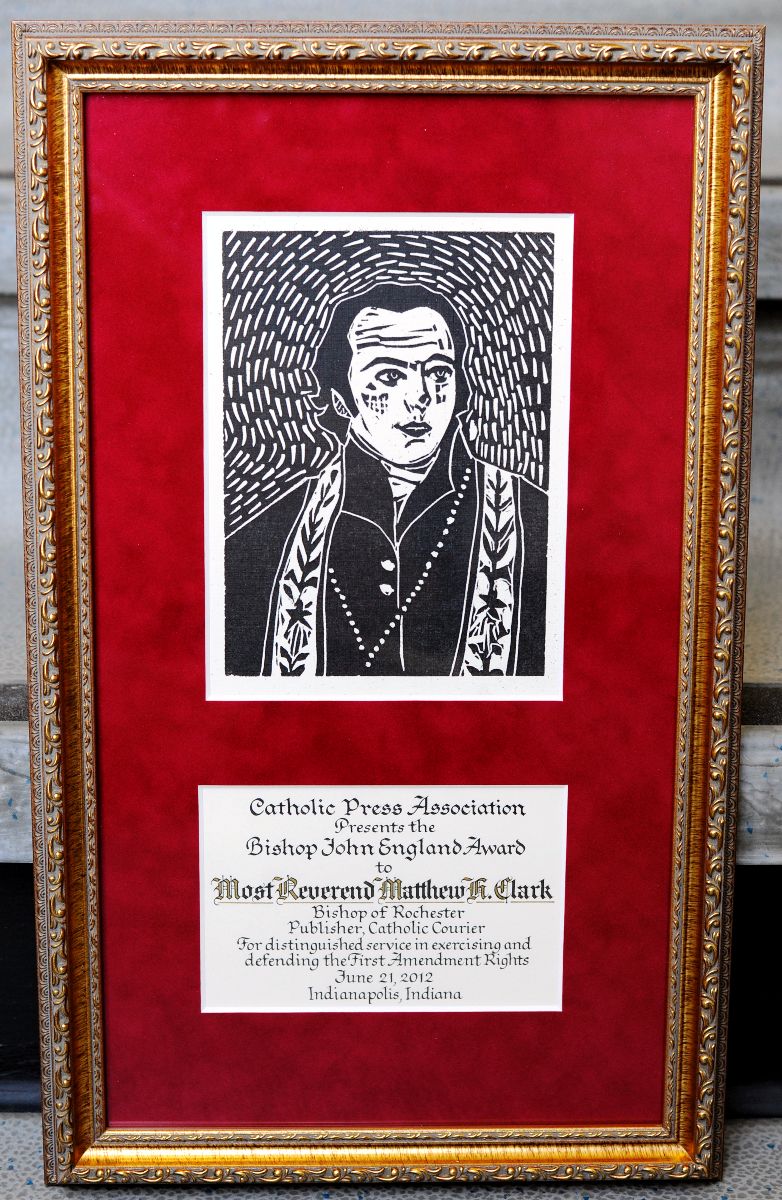 Bishop of Rochester Matthew H. Clark has received the prestigious Bishop John England Award from the national Catholic Press Association.
He was honored for his work in supporting the diocesanCatholic Courier newspaper, of which he is publisher. The Bishop was cited for his long support of the newspaper staff  in carrying out its journalistic responsibility.
Bishop Clark also was credited for rescuing the newspaper by means of a major restructuring in the mid-1980s, for widely increasing its distribution in 2004 to include every registered Catholic household in the 12-county diocese and for founding in 2005 its Spanish-language sister publication, El Mensajero Católico.
The England award is named for the Irish-born bishop of Charleston, S.C., who founded The Catholic Miscellany, the oldest Catholic newspaper in the U.S. The award is given annually and honors publishers in the Catholic press for their defense of freedom of the press and freedom of religion. It is the press association's highest award for publishers.
Bishop Clark was nominated for the award by Karen Franz, editor and general manager, who joined the paper in early 1985. "I've often told my colleagues around the country that I have the best job in the Catholic press, and writing this nomination was an opportunity to prove it to them," she said. "Bishop Clark's support of the newspaper throughout my tenure has been unflagging, courageous and inspiring."
The award was presented June 21 during the association's annual convention.
Visit www.catholiccourier.com for more information about the Catholic Courierand to read its award-winning coverage. El Mensajero Católico's bilingual website can be found at elmensajerorochester.com.