Seminarian ordained transitional deacon
October 3, 2013
Seminarian Peter VanLieshout ordained transitional deacon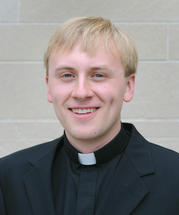 October 3, 2013 – Diocese of Rochester seminarian Peter Van Lieshout was ordained a transitional deacon at the North American College in Rome, Italy, today. Deacon Van Lieshout is scheduled to be ordained a priest of the Diocese of Rochester in June 2014.
He was ordained by Cardinal James Harvey, archpriest of the Basilica of St. Paul Outside-the-Walls in Rome, and was among 41 students ordained transitional deacons at the seminary.
Van Lieshout is a native of Livonia, Livingston County, and a parishioner of St. Matthew Church. He is a graduate of the Franciscan University in Steubenville, Ohio.
He completed a Pastoral Year at Our Lady of Peace Parish in Geneva.
"In the mystery of God's Providence, certain men are called to become unique human instruments in the continued salvation of souls as priests of Jesus Christ.  For the longest time, I loved and respected the priestly vocation, just so long as God wasn't asking me to be one!  At a certain point, however, my thinking began to change:  "There is a great need today for good priests.  Am I really so sure Christ isn't asking me to step up and serve his Church in a more radical way?" — My life has never been the same since."
~ Peter VanLieshout
North American College news release
Intersted in the Priesthood? Contact Our Vocations Office