Holy Trinity Church, Webster, to dedicate Murphy Hall
May 16, 2008
Church of the Most Holy Trinity dedicates Murphy Hall parish center and gym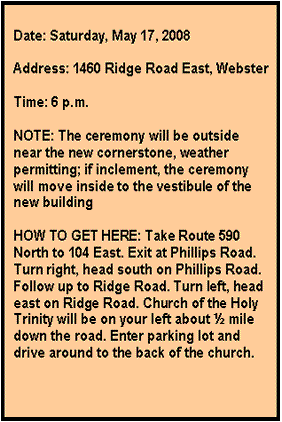 Webster, N.Y. – The dedication of Murphy Hall on Saturday, May 17, 2008 marks the completion of a two-building expansion and construction project on the campus of Church of the Most Holy Trinity parish in Webster.
In 2001, the Gathering Space was built to connect the church and Holy Trinity School and created additional meeting rooms. On April 29, 2007, the groundbreaking for what is now Murphy Hall took place.
Murphy Hall is named for Rev. Donald Murphy and Sister Francis DeSales Murphy, uncle and aunt of parishioners Val and the late Cornelius "Neil" Murphy.
A gala in the new parish hall immediately follows the dedication ceremony.  Members of the Murphy family will join more than 200 Holy Trinity parishioners and alumni of Holy Trinity School at the event.  Parishioners will be available for interviews.
The Church of the Most Holy Trinity was founded in 1861 and will celebrate its sesquicentennial in 2011. The school is among those 13 Monroe County Catholic schools closing this June 2008; a special segment of the ceremony will honor the long tradition of Catholic School education at the parish.
Church of the Most Holy Trinity, led by Father William Michatek, pastor, now is home to more than 2,000 families from Northeast Monroe County and Northwest Wayne County. The parish supports dozens of ministries in the community, including the HOPE House social justice ministry which is located on the parish campus. For more information about the parish community, visit www.holytrinityweb.com.