New Diocese of Rochester Catholic Schools superintendent named
June 26, 2008
Anne Willkens Leach appointed Schools Superintendent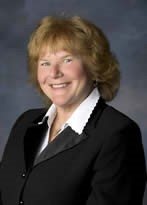 A longtime educator and schools administrator has been named new Superintendent of Catholic Schools for the Roman Catholic Diocese of Rochester. Anne Willkens Leach will begin in her new position in mid-August.
Willkens Leach, who lives in Penfield, currently is principal at Nazareth Hall Middle School (grades 6-8), as well as Nazareth Academy (9-12) in Rochester. She has served in that role for the past year.
Previously in her career, she was deputy superintendent of schools from 2001-2007 for the Genesee Valley BOCES in LeRoy. From 1999-2001, she served as assistant superintendent for instruction for the Wayne Central School District and in a number of positions at Monroe BOCES #1, including director of curriculum and staff development from 1989-1999, training coordinator (1983-1989) and as a district-based classroom teacher (1979-1983).
She also was director of physical education for School of the Holy Childhood and girls' physical education instructor for Rochester School for the Deaf.
Willkens Leach holds a certificate of advanced study in education administration from SUNY Brockport, a master's degree in education from Nazareth College, a bachelor's degree from SUNY Empire State and an associate's degree from Monroe Community College. She also holds permanent certification from New York State as a school district administrator, school administrator and supervisor, nursery school-6th grade and common branch subjects, special education and recreation.
Sr. Janice Morgan, SSJ, who has served as interim superintendent of Catholic Schools since January 2008, will assist in the transition.
"I am delighted at the opportunity to serve as superintendent and to help our Catholic Schools thrive," Willkens Leach said. "I have a deep faith and a strong, strong feeling that Catholic Schools must and will thrive and grow. They have so much to offer. Working together, we can accomplish this."
For more information about Diocese of Rochester Catholic Schools, visit www.dorschools.org