New president appointed at St. Bernard's School of Theology and Ministry
August 14, 2018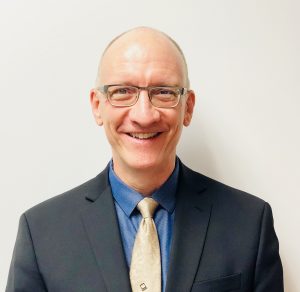 Dr. Loughlin
The Most Reverend Salvatore R. Matano, Bishop of Rochester, upon the recommendation of the Board of Trustees of Saint Bernard's School of Theology and Ministry, has appointed Dr. Stephen J. Loughlin, PhD, as the institution's fourth president, effective Aug. 13, 2018. Dr. Loughlin joins Saint Bernard's after a distinguished career as a teacher and scholar at DeSales University in Pennsylvania.
Dr. Loughlin holds a master's and a doctoral degree in Philosophy from the University of Toronto, as well as a Bachelor of Arts degree in Philosophy from Saint Jerome's University in Waterloo, Ontario, Canada. He joined the faculty of DeSales University in 1999. He was promoted to the rank of Associate Professor in 2004 and has served as chair of the Philosophy and Theology Department since 2011.
Dr. Loughlin's scholarly work in Philosophy has been published in Mediterranean Studies, Nova et Vetera, and The Thomist, among other publications. He has served on the editorial board of the journal Nova et Vetera. He is the author of Aquinas' Summa Theologiae: A Reader's Guide, published in London in 2010 by T&T Clark. In addition, Dr. Loughlin directs the work of The Aquinas Translation Project, a web-based project which seeks to provide scholars, religious and any interested individuals with translations of the works of Saint Thomas Aquinas not readily available in English. His areas of specialization include Medieval Philosophy, Thomistic Anthropology and the Philosophy of Nature.
Dr. Loughlin is a member of the American Philosophical Association, the American Maritain Association, the Fellowship of Catholic Scholars, American Catholic Philosophical Association and Collegium: A Colloquy on Faith and Intellectual Life.
"I am grateful to His Excellency, Bishop Matano, and to the Board of Trustees for their confidence, their wisdom and their good counsel," Dr. Loughlin said. "I look forward to carrying on the inspiring Catholic mission of this institution of higher learning and its long tradition of educational excellence, and helping to guide Saint Bernard's to further growth and vitality."
Dr. Loughlin will be formally installed at a Holy Mass to be celebrated by Bishop Matano at 5 p.m., Tuesday, September 18, 2018, at Saint Jerome Church, 207 Garfield Street, East Rochester.
About St. Bernard's School of Theology and Ministry
Opened as a Roman Catholic Seminary in 1893 and restructured into an institute for theological and ministerial studies in 1981, St. Bernard's has steadily pursued a course of dedication and service to the Church in a changing world. Saint Bernard's School of Theology and Ministry educates and assists women and men in academic, ministerial and spiritual formation to serve the Catholic Church through various forms of lay and ordained ministries, theological scholarship and Christian apostolates in society.
Bishop Matano serves as Chancellor of Saint Bernard's. The main campus is located on French Road in Pittsford; the school also offers classes in Syracuse and Albany. Saint Bernard's offers three master's degrees in theology and continuing education opportunities for those seeking professional training, personal enrichment or a deeper understanding of their Catholic faith.
For more information, visit www.stbernards.edu.