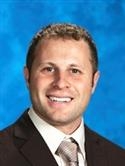 Cook appointed new principal at
Seton Catholic School in Brighton
Anne Willkens Leach, superintendent of schools for the Roman Catholic Diocese of Rochester, recently announced the appointment of Anthony Cook as principal of Seton Catholic School in Brighton. Cook will start his new position on January 2.
Cook, who lives in Rochester, has been the Dean of Students for the junior high at Aquinas Institute since 2008. In addition to his current role at Aquinas Institute, he has taught a variety of subjects at the school over the past eight years, including American History, Criminal Justice and Global Studies. This past summer, he also served as an adjunct professor within the Educational Administrative Leadership Program at the University of Notre Dame.
"I am excited and blessed to join the community at Seton Catholic School," said Cook. "As a practicing Catholic and Catholic school administrator, I am whole-heartedly committed to Catholic education. With this commitment, it is my responsibility to support the development of each child's spiritual faith and collective growth as a school community.""
Cook received his Bachelor of Arts and a Master of Science in Secondary Education from SUNY Geneseo. He also received a Master of Arts degree from the University of Notre Dame.
For more information on Catholic schools in the Diocese of Rochester, visit www.dorschools.org.