New Schools Superintendent
April 8, 2013
Anthony S. Cook III is appointed
Catholic Schools Superintendent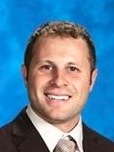 Anthony S. Cook III has been named Superintendent of Catholic Schools for the Diocese of Rochester, effective July 1, 2013. He will succeed Superintendent Anne Willkens Leach, who is retiring.
Cook, a Rochester native, is currently the Principal of Seton Catholic School in Brighton, a position he has held since January 2012. He will remain in that position until his appointment as Superintendent becomes effective.
"I am honored to be selected as Superintendent and I am excited to have the opportunity to lead our diocesan schools, which have such a proud tradition of faith combined with academic excellence. Catholic schools are a privileged place where the sacraments are celebrated, scriptures studied, and the name of Jesus spoken," Cook says. "I look forward to working with all stakeholders of our local Catholic school community – including students, parents, pastors, principals, teachers, and staff. I deeply value the responsibility I have in shaping students spiritually, academically, and personally while contributing to the success of Catholic Education. It is a vocation to which I am wholeheartedly devoted."
Cook holds an M.A. in Educational Administration from the University of Notre Dame's Mary Ann Remick Leadership Program, which is part of the Alliance for Catholic Education. The program at Notre Dame networks hundreds of current and future school administrators nationally. After completing his degree at Notre Dame, Cook was selected as an Adjunct Professor for the summer of 2011.
In addition, Cook has earned a M.S. in Education and Bachelor's degree in Political Science from the State University of New York College at Geneseo.
He is scheduled to complete his Doctoral degree in Education at the University of Rochester in 2016.
Before his appointment as Seton Catholic School's Principal, Cook was the Dean of Students at Aquinas Institute's Junior High School and also taught American History. Additionally, he has served as Head Coach of Aquinas' boys and girls varsity track and field teams, leading the school to several championships and honors.
Cook is certified by New York State as a School Building Leader and teacher, and will hold certification as a School District Leader upon start of the 2013-2014 school year.
For more information about our schools, click here