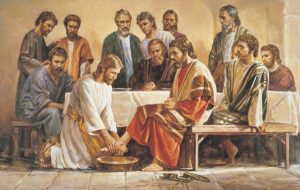 So when he had washed their feet [and] put his garments back on and reclined at table again, he said to them, "Do you realize what I have done for you? You call me 'teacher' and 'master,' and rightly so, for indeed I am. If I, therefore, the master and teacher, have washed your feet, you ought to wash one another's feet. I have given you a model to follow, so that as I have done for you, you should also do. Amen, amen, I say to you, no slave is greater than his master nor any messenger. If you understand this, blessed are you if you do it.
– John 13: 12-17
---
Very Reverend Paul J. Tomasso
Director Priest Personnel & Director of Seminarians
Deacon Edward Giblin
Director, Office of the Permanent Diaconate
www.dor.org/vocations/deacons/
https://www.dor.org/about/office-ministry-directory/jail-ministry/
https://www.dor.org/about/office-ministry-directory/health-care-ministry/
Fr Peter Van Lieshout
Co-Director, Vocation Priesthood Awareness
www.rocpriest.org
The Department of Clergy Services provides services and programs for the offices of Clergy, Deacon Formation, Deacon Personnel, Vocation Awareness, Seminarians and Healthcare Chaplaincy Support.