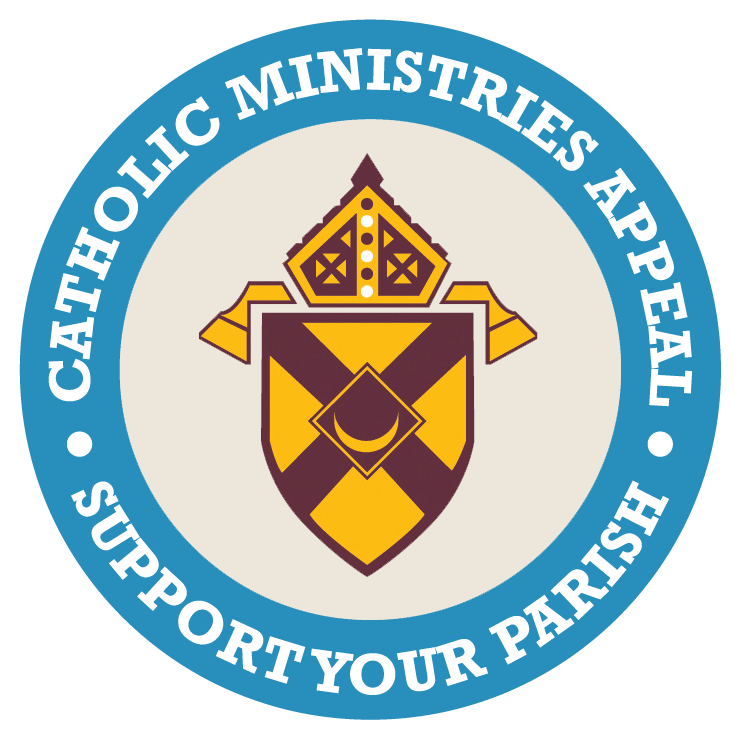 As of March 20, 2020, total commitments equal $5,754,189 or 85.56% of the $6,725,000 diocesan goal.
Thank you for your support!
In response to information provided by local and state government and health officials concerning the Coronavirus, Diocese of Rochester staff are working remotely. As a result, the CMA figures posted on the DOR Website, and the Parish-to-Parish listing will not be updated. As soon as we are able to begin tracking CMA progress again, we will let you know. We extend our sincere gratitude to all who have continued to support the CMA during this time. Thank you for your understanding and patience.
To contribute to the CMAs, please
visit our donation page
.
| | | | | | | |
| --- | --- | --- | --- | --- | --- | --- |
| 002, Blessed Sacrament Church | Rochester | 169 | $57,769.71 | $57,012.71 | $68,823.00 | 83.94% |
| 007, Holy Apostles Church | Rochester | 158 | $39,184.00 | $38,159.00 | $22,089.00 | 177.39% |
| 008, Holy Cross Church | Rochester | 421 | $108,031.00 | $87,244.94 | $106,530.00 | 101.41% |
| 014, Immaculate Conception/St. Bridget's | Rochester | 34 | $11,000.00 | $10,415.72 | $9,910.00 | 111.00% |
| 017, Our Lady of Lourdes Church | Rochester | 127 | $49,289.28 | $48,989.28 | $64,289.00 | 76.67% |
| 021, Our Lady Queen of Peace Church | Rochester | 142 | $44,139.00 | $43,034.00 | $64,653.00 | 68.27% |
| 022, Our Lady of Victory Church | Rochester | 46 | $37,213.90 | $37,213.90 | $33,849.00 | 109.94% |
| 023, Our Mother of Sorrows Church | Rochester | 497 | $93,292.00 | $87,080.72 | $89,770.00 | 103.92% |
| 026, St. Anne Church | Rochester | 137 | $32,835.00 | $31,280.00 | $46,998.00 | 69.86% |
| 029, St. Boniface Church | Rochester | 95 | $26,098.02 | $22,759.48 | $26,322.00 | 99.15% |
| 032, St. Charles Borromeo Church | Rochester | 490 | $109,966.11 | $104,632.48 | $107,818.00 | 101.99% |
| 035, St. George Lithuanian Church | Rochester | 12 | $800.00 | $800.00 | $4,367.00 | 18.32% |
| 039, St. John the Evangelist Church | Rochester | 361 | $79,926.10 | $77,447.15 | $87,757.00 | 91.08% |
| 041, St. Lawrence Church | Rochester | 547 | $118,782.75 | $116,777.94 | $157,563.00 | 75.39% |
| 044, St. Mark's Church | Rochester | 302 | $83,883.00 | $76,595.44 | $78,051.00 | 107.47% |
| 045, St. Mary Church | Rochester | 127 | $44,757.17 | $43,804.98 | $49,313.00 | 90.76% |
| 047, St. Monica Church | Rochester | 98 | $20,366.00 | $20,105.50 | $20,622.00 | 98.76% |
| 051, St. Pius Tenth Church | Rochester | 423 | $110,555.50 | $107,617.65 | $127,702.00 | 86.57% |
| 053, St. Stanislaus Church | Rochester | 174 | $41,523.00 | $40,893.00 | $47,315.00 | 87.76% |
| 054, St. Theodore's Church | Rochester | 293 | $53,185.00 | $50,333.71 | $65,262.00 | 81.49% |
| 057, St. Thomas More Church | Rochester | 132 | $54,995.00 | $54,645.00 | $75,520.00 | 72.82% |
| 058, Emmanuel Church of the Deaf | Rochester | 11 | $2,995.00 | $2,795.00 | $4,244.00 | 70.57% |
| 204, Holy Family Church | Auburn | 116 | $18,561.00 | $17,521.00 | $35,076.00 | 52.92% |
| 205, Sacred Heart Church | Auburn | 148 | $22,261.00 | $22,231.00 | $43,942.00 | 50.66% |
| 207, St. Alphonsus Church | Auburn | 167 | $35,970.00 | $34,934.99 | $55,508.00 | 64.80% |
| 210, St. Mary's Church | Auburn | 298 | $65,294.50 | $63,905.22 | $70,717.00 | 92.33% |
| 212, St. Agnes Church | Avon | 121 | $27,749.00 | $26,470.00 | $34,427.00 | 80.60% |
| 215, Nativity of the Blessed Virgin Mary | Brockport | 235 | $52,276.00 | $48,823.90 | $46,072.00 | 113.47% |
| 233, Holy Cross Church | Freeville | 57 | $19,690.01 | $19,340.01 | $19,450.00 | 101.23% |
| 237, St. Jerome Church | East Rochester | 239 | $78,223.88 | $72,446.44 | $82,090.00 | 95.29% |
| 248, Church of the Assumption | Fairport | 571 | $181,949.00 | $178,379.72 | $234,388.00 | 77.63% |
| 249, St. John of Rochester Church | Fairport | 681 | $207,254.00 | $201,954.25 | $242,708.00 | 85.39% |
| 255, St. Anthony Church | Groton | 55 | $8,810.00 | $8,754.00 | $9,813.00 | 89.78% |
| 260, St. Mary's Church | Honeoye | 69 | $17,151.00 | $16,688.50 | $15,200.00 | 112.84% |
| 261, St. Paul of the Cross Church | Honeoye Falls | 64 | $20,750.00 | $20,170.00 | $21,101.00 | 98.34% |
| 264, St. Mary Our Mother Church | Horseheads | 274 | $76,852.88 | $74,899.32 | $112,209.00 | 68.49% |
| 266, Immaculate Conception Church | Ithaca | 205 | $48,674.00 | $47,384.00 | $57,152.00 | 85.17% |
| 267, St. Catherine of Siena Church | Ithaca | 148 | $43,219.20 | $39,265.13 | $56,250.00 | 76.83% |
| 270, St. Rose Church | Lima | 42 | $13,875.00 | $13,875.00 | $12,276.00 | 113.03% |
| 273, All Saints Church | Lansing | 61 | $10,332.00 | $10,048.68 | $15,165.00 | 68.13% |
| 277, St. Catherine of Siena Church | Mendon | 242 | $81,390.00 | $79,892.50 | $117,953.00 | 69.00% |
| 283, St. Michael's Church | Newark | 185 | $30,277.00 | $28,230.45 | $44,851.00 | 67.51% |
| 287, St. Benedict's Chapel | Odessa | 23 | $7,812.00 | $7,812.00 | $5,409.00 | 144.43% |
| 290, St. Ann Church | Owasco | 25 | $4,939.00 | $4,939.00 | $9,210.00 | 53.63% |
| 291, St. Patrick's Church | Owego | 112 | $30,051.00 | $28,451.00 | $41,743.00 | 71.99% |
| 294, Holy Spirit Church | Webster | 281 | $84,868.90 | $83,204.62 | $83,602.00 | 101.52% |
| 295, St. Joseph's Church | Penfield | 635 | $235,072.91 | $220,079.74 | $230,596.00 | 101.94% |
| 300, St. Louis Church | Pittsford | 416 | $253,316.03 | $239,809.30 | $259,237.00 | 97.72% |
| 316, St. John the Evangelist Church | Spencerport | 323 | $72,931.24 | $70,255.52 | $80,354.00 | 90.76% |
| 321, St. Patrick's Church | Victor | 282 | $80,716.76 | $77,681.76 | $113,885.00 | 70.88% |
| 323, St. Mary of the Lake Church | Watkins Glen | 111 | $33,108.00 | $32,788.00 | $39,599.00 | 83.61% |
| 326, Holy Trinity Church | Webster | 560 | $156,716.72 | $150,641.99 | $155,787.00 | 100.60% |
| 327, St. Rita's Church | Webster | 560 | $175,284.10 | $168,242.25 | $160,859.00 | 108.97% |
| 331, St. Paul's Church | Webster | 316 | $79,854.05 | $77,895.57 | $109,477.00 | 72.94% |
| 333, St. Christopher Church | North Chili | 229 | $47,994.99 | $45,568.55 | $63,666.00 | 75.39% |
| 334, Church of the Resurrection | Fairport | 214 | $63,516.25 | $61,244.47 | $67,499.00 | 94.10% |
| 335, St. Elizabeth Ann Seton Church | Hamlin | 185 | $40,026.00 | $38,078.78 | $41,442.00 | 96.58% |
| 336, Church of the Transfiguration | Pittsford | 418 | $183,804.00 | $169,327.61 | $203,413.00 | 90.36% |
| 337, Good Shepherd Catholic Community | Aurora | 137 | $36,918.00 | $34,553.00 | $37,686.00 | 97.96% |
| 338, All Saints Parish | Corning | 306 | $79,591.70 | $75,184.20 | $117,352.00 | 67.82% |
| 339, St. Matthew Catholic Church | Livonia | 186 | $51,864.00 | $48,769.91 | $51,815.00 | 100.09% |
| 340, Blessed Trinity Parish | Owego | 166 | $44,134.00 | $43,434.00 | $60,051.00 | 73.49% |
| 341, Our Lady of the Valley Parish | Hornell | 296 | $62,200.00 | $59,935.36 | $57,018.00 | 109.09% |
| 342, Holy Family Catholic Community | Wayland | 207 | $34,469.00 | $33,406.16 | $33,330.00 | 103.42% |
| 343, Our Lady of the Snow Parish | Weedsport | 104 | $20,141.00 | $19,746.00 | $20,277.00 | 99.33% |
| 344, St. Luke the Evangelist Parish | Geneseo | 208 | $42,270.50 | $39,234.50 | $52,150.00 | 81.06% |
| 345, CC of the Blessed Trinity | Wolcott | 72 | $11,810.00 | $11,566.44 | $17,207.00 | 68.63% |
| 346, Our Lady of Peace Parish | Geneva | 336 | $67,159.94 | $65,842.09 | $92,415.00 | 72.67% |
| 348, Peace of Christ Parish | Rochester | 414 | $121,872.83 | $109,463.78 | $110,395.00 | 110.40% |
| 353, St. Maximilian Kolbe Parish | Ontario | 228 | $60,562.00 | $56,407.00 | $63,780.00 | 94.95% |
| 354, Cathedral Community Church | Rochester | 247 | $100,543.00 | $98,793.00 | $79,113.00 | 127.09% |
| 355, Ss. Isidore & Maria Torribia Parish | Addison | 105 | $17,231.00 | $16,684.56 | $27,686.00 | 62.24% |
| 356, St. Katharine Drexel Parish | Palmyra | 169 | $46,029.33 | $45,189.33 | $53,616.00 | 85.85% |
| 357, Saint Kateri Tekakwitha Parish | Irondequoit | 755 | $145,127.07 | $141,969.80 | $213,706.00 | 67.91% |
| 358, St. Frances Xavier Cabrini Parish | Rochester | 174 | $45,140.00 | $44,494.00 | $51,500.00 | 87.65% |
| 359, Our Lady of the Lakes CC | Penn Yan | 233 | $48,847.95 | $48,077.94 | $60,706.00 | 80.47% |
| 360, St. Peter's Roman Catholic Parish | Clifton Springs | 237 | $48,117.37 | $45,864.52 | $45,590.00 | 105.54% |
| 361, St. John Vianney Parish | Bath | 101 | $23,984.00 | $23,179.72 | $28,952.00 | 82.84% |
| 362, Marianne Cope Roman Catholic Parish | Henrietta | 445 | $119,406.37 | $112,633.83 | $161,325.00 | 74.02% |
| 363, Ss. Mary and Martha Parish | Auburn | 203 | $29,944.00 | $28,869.00 | $33,547.00 | 89.26% |
| 364, St. Joseph the Worker Parish | Clyde | 160 | $20,177.00 | $19,741.28 | $29,156.00 | 69.20% |
| 365, St. Benedict Roman Catholic Parish | Canandaigua | 477 | $168,359.87 | $163,719.14 | $164,696.00 | 102.22% |
| 366, St. Francis & St. Clare Parish | Waterloo | 189 | $37,419.00 | $35,965.36 | $88,391.00 | 42.33% |
| 367, Parish of The Holy Family | Gates | 490 | $108,994.06 | $102,844.25 | $139,787.00 | 77.97% |
| 368, Parish of Mary, Mother of Mercy | Interlaken | 108 | $23,046.00 | $22,936.00 | $29,979.00 | 76.87% |
| 369, St. Martin de Porres Parish | Caledonia | 323 | $71,813.00 | $69,325.16 | $97,701.00 | 73.50% |
| 370, Most Holy Name of Jesus Parish | Elmira | 612 | $156,958.70 | $153,914.41 | $202,424.00 | 77.54% |
| 400, Latin Mass Community | | 68 | $12,747.00 | $12,262.00 | $32,320.00 | 39.44% |